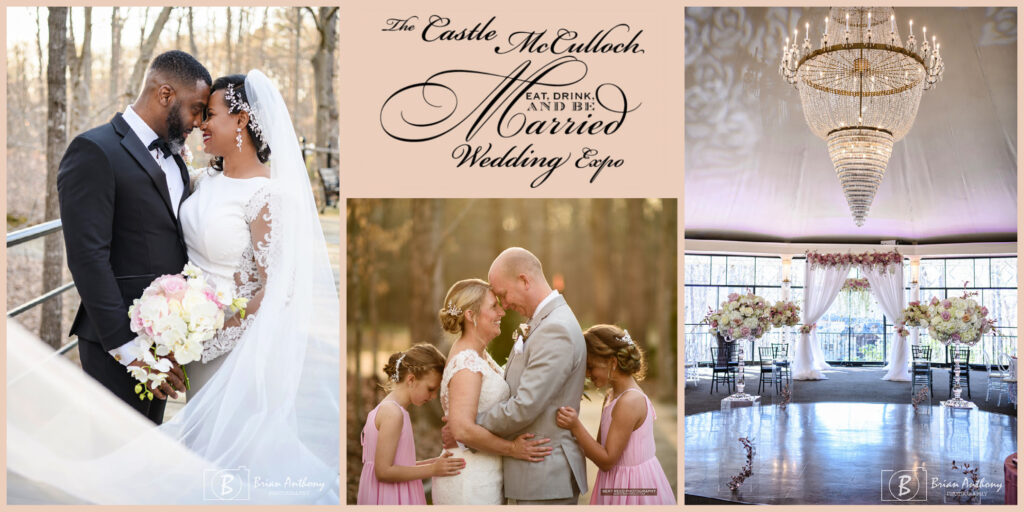 Sunday, July 11, 2021 1:00PM-4:00PM
Bring Your Fiancé! Bring Your Bridesmaids! Bring Your Bestie!  You're Invited To Join Us For A Magical Experience That'll Consist Of Great Food, Music And Some Of The Best Wedding Vendors In The Triad. Visit Castle McCulloch, North Carolina's ONLY Genuine Castle! In Addition To Strolling The Grounds Of The Castle, You Get The Chance To Meet Our Vetted, Hand Picked Selection Of Wedding Professionals From Multiple Wedding Vendor Categories. Enjoy Cocktails While Tasting Our Deliciously Prepared Foods From Our Selection Of Wedding Bakers And Caterers.

Online Registration Is Open For Brides ($10.00) And Guests ($15.00) To Register, Choose The Ticket Within The Group Based On What Time You Would like To Begin Your Wedding Expo Experience – Meeting With Our Wedding Vendors. All Guest Tickets Will Be Available For Purchase At Check In At The Event. Due To Health Concerns, Children Are Discouraged From Attending.

Located In Jamestown, The Castle Is Only 10 Minutes From Greensboro, 15 Minutes From Winston Salem, And One (1) Hour From Raleigh & Charlotte. Be Sure To RSVP Quickly For This Extraordinary Bridal Show! Spaces Fill Quickly, So Register Now To Secure Your Spot!  
Sunday, July 11, 2021 1PM-4PM
Join Us At Castle McCulloch For The Triads Original Wedding Expo, Where You'll Meet The Top Local Wedding Vendor From Multiple Categories!
May 2021 Wedding Expo Vendors List
Newly Formatted ~ COVID Precautions
What To Expect During The Wedding Expo At The Castle
Social Distancing Measures Regarding Attendees:
Attendees Will Arrive At Specified Time Intervals.

This Is Allows Us To Maintain Limited Capacity Thresholds.

And Allow Everyone To Stay Socially Distant During The Event.

Attendees Will Be In Small Groups That Will Begin At A Specific Location.

Attendees Will Will Follow The One Way, Directional Arrows Going From Vendor To Vendor.

All Attendees Will Be Required To Stay With Their Group.

All Attendees Will Be Required To Stay 6 Feet Apart From Those Who Are Not In Their Group.
Large Isleways Will Allow For Everyone To Maintain The Social Distancing Measures Through The Property For The Duration Of The Event.
Social Distancing Measures Regarding Vendors:
Vendor Booths Will Be Spread Out Throughout The Property.

Attendees Will Be 6 Feet From Vendor Booths During Communication
Sanitizing Measures:
Sanitizing Stations Will Be Available Throughout The Event.

Staff Will Be Wiping Down Touch Point Surfaces Throughout The Event.

Caterers Will Provide Samples.

Caterers Will Handle All Food/Beverage Dispensing.